What is Spectroscopy?
Spectroscopy means the dispersion of light into component colors. In simple words, it is a method to measure how much light is absorbed by a chemical substance and at what intensity of light passes through it. As per analytical science, every element or compound has a unique characteristic spectrum. Each compound absorbs and disperses light over a certain range of wavelengths.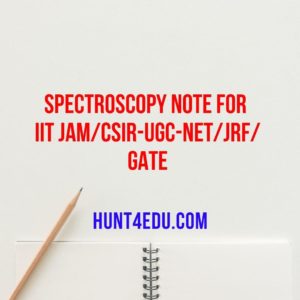 Here, We provided to Spectroscopy Notes For IIT JAM/CSIR-UGC-NET/JRF/GATE. Spectroscopy is a general term used for the instrumental processes by which information about the molecular structure is obtained through careful analysis of the absorption, scattering, or emission of electromagnetic radiation by compounds. Free download PDF Spectroscopy Note For IIT JAM/CSIR-UGC-NET/JRF/GATE.

Electromagnetic radiation is the continuous spectrum of energy-bearing waves ranging from extremely short waves, such as high-energy X-rays (with wavelengths of about 10 nanometres [nm]), to very long, low-energy waves such as radio waves (with wavelengths of one meter [m] or more). Visible light, for example, is the range of electromagnetic radiation detectable by human vision, with wavelengths of roughly 400 to 700 nm. Objects appear colored when they absorb visible light of certain wavelengths, and those absorbed wavelengths are consequently absent from light that passes from the colored object to the eyes.

Molecules are able to absorb light of certain wavelengths because the energy content of the absorbed light is the precise value needed to cause a molecule to be excited from one energy state to a higher one. The myriad energy levels in a molecule are said to be quantized because each one differs from another by a discrete, measurable energy value, just as each step in a stairway is a fixed height above, or below, all others. Thus, by measuring the wavelengths of the electromagnetic radiation absorbed by a molecule, it is possible to gain information about the various energy levels within it. Free download PDF Spectroscopy Note For IIT JAM/CSIR-UGC-NET/JRF/GATE.

This information can then be correlated with specific details of molecular structure. Instruments called spectrometers measure the wavelengths of light that are absorbed by molecules in various regions of the electromagnetic spectrum. The most important spectroscopic techniques for structure determination are ultraviolet and visible spectroscopy, infrared spectroscopy, and nuclear magnetic resonance spectroscopy. A fourth technique, termed mass spectrometry, does not depend on the absorption of electromagnetic radiation, but it is valuable for the information it provides about the number and type of atoms present in a molecule. The following sections briefly describe the various applications of these techniques for organic compounds; for more information, see spectroscopy.
Types of Spectroscopy:
Acoustic resonance

Time-resolved

Photoemission

X-ray photoelectron

Circular Dichroism

IR Spectroscopy (Infrared spectroscopy)

Raman spectroscopy
BOOK NAME – SPECTROSCOPY NOTE FOR IIT JAM/CSIR-UGC-NET/JRF/GATE
AUTHOR – CAREER ENDEAVOUR
SIZE – 9.5MB
PAGES – 61
Career Endeavour offers Online Test for DU M.Sc Entrance, UGC-CSIR-NET, NTA-NET, IIT-JAM, GATE Exams. This Test Series accessible to the candidates in their own study room. Our Online Mock test has been designed to provide in-depth knowledge and proper examination temperament. It will give you an opportunity to convert your skill into success and to evaluate self-performance. Free download PDF Spectroscopy Note For IIT JAM/CSIR-UGC-NET/JRF/GATE.
Career Endeavour Online Test Series is designed considering the new pattern of DU M.Sc, IIT-JAM, GATE, and UGC-CSIR-NET Exams. The test papers are developed by Career Endeavour Research and Development Wing which includes experienced faculty members and IIT-JAM, GATE & NET toppers. Unit tests, Minor tests, and Mock tests are designed for thorough coverage of the entire syllabus. Career Endeavour Online Test provides a platform for students to judge their performance and results will be analyzed on an all India basis. The check papers are designed considering new communication patterns and commonplace of the queries resembles the particular examination of all told aspects, serving to students to beat their weaknesses, rectify errors, and perform better.
According to student reviews" The best coaching job Institute for CSIR web JRF TIFR, JEST AND gate, the schools are terribly intelligent, cooperative, helpful, principally ar the IITians on with this they are providing you the excellent class notes and books as well. I joined in July 2017 for Dec 2017 NET JRF, GATE 2018, and TIFR I Have Qualified all exams in 1st attempt after joining this INSTITUTE Just in 6 months preparation. Thank you such a lot for providing the USA such exquisite workers and facilities."Career Endeavour UGC web coaching job Old Delhi Reviews.
SOURCE:- TELEGRAM CHANNEL
DISCLAIMER: HUNT4EDU.COM does no longer owns this book neither created nor scanned. We simply offer the hyperlink already to be had on the internet. If any manner it violates the law or has any troubles then kindly mail us or Contact Us for this(hyperlink removal).
We don't aid piracy this duplicate grows to be supplied for university youngsters who're financially bad but deserve greater to examine. Thank you.

READ MORE
Chemical Science Solution By Career Endeavour
Main Group Elements Note For IIT JAM/CSIR-UGC-NET/JRF/GATE
Quantum Chemistry For CSIR-UGC-NET/JRF/GATE
Chemical Kinetics Notes For IIT JAM/CSIR-UGC-NET/JRF/GATE
Mathematical Physics Problems:- Complete Guide For NET, GATE & JEST